I grew up main­ly in Col­orado, West Vir­ginia and Delaware. Because of my father's job, we moved fre­quent­ly. By the time I was in fourth grade I had attend­ed five schools in four states! We lived in Lit­tle­ton, Col­orado from the time I was eight until I was six­teen, so that's real­ly where I "grew up." We moved back to Wilm­ing­ton, Delaware when I was six­teen and I attend­ed the same school I had attend­ed for the first half of kinder­garten. After high school I went to col­lege in Mass­a­chu­setts. Dur­ing my fresh­man year, my par­ents moved to West Vir­ginia (where I had gone to first and sec­ond grades). Con­fus­ing, isn't it? You can see why I have a hard time answer­ing the ques­tion, "where are you from?"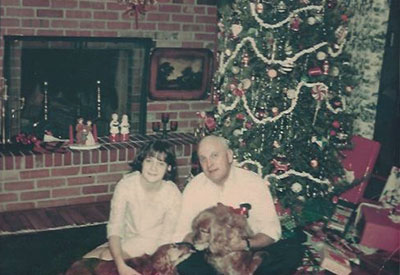 Did you always want to be a writer?
No. First, I want­ed to be an actress. Actu­al­ly, what I want­ed to be was Hay­ley Mills. I watched all her movies and I thought she must have the per­fect life. That was until I real­ized actors had to be com­fort­able being the cen­ter of atten­tion. I was­n't. Once I learned to read, my inter­est turned to sto­ry­telling. By the time I was in fifth grade, I want­ed, more than any­thing, to cre­ate sto­ries like the ones I read in the books I checked out of the library and ordered from the Scholas­tic Book Club. That desire grew over time as I con­tin­ued to fall deep­er in love with lit­er­a­ture and poetry.
I sup­pose it was the polit­i­cal cli­mate of the six­ties that sparked my inter­est in becom­ing a lawyer. My uncle was U.S. Attor­ney in South Car­oli­na dur­ing the Kennedy admin­is­tra­tion and, lis­ten­ing to him talk about his work, ignit­ed a pas­sion for law. I want­ed to do both; be a lawyer and a writer. This is more com­mon than you might think. Many lawyers secret­ly (or not so secret­ly), want to write. I prac­ticed law for four­teen years until I had to stop to take care of fam­i­ly mem­bers who were crit­i­cal­ly ill. Writ­ing saved me dur­ing those years. Writ­ing had always been my secret pas­sion. Over time, it became my vocation.
What do you do in your spare time?
Read books. Take long walks. Go to plays. Read books. Ride my bike. Attend a week­ly French Con­ver­sa­tion Table. Read books. Try out new recipes. Play music (bad­ly, I'm afraid). Read books. Vol­un­teer at the Colo­nial Williams­burg Art Muse­ums. Pad­dle a canoe. Read books. Shov­el snow (Real­ly. I love doing this. The neigh­bors think I'm crazy. But we only have one or two seri­ous snows a year and I love snow.) After­wards, I love to come inside, get cozy and ________ ________. [Hint: rhymes with "Feed rooks."]
Where do you get your ideas?
Ah, there's the mys­tery. Ideas comes part­ly from expe­ri­ence. But, that's only a small piece of the puz­zle. My sto­ries always start with a char­ac­ter. When I'm lucky, that char­ac­ter's voice will come into my head. He or she starts talk­ing about some­thing that is trou­bling them and I am off and run­ning. Unfor­tu­nate­ly, the voice nev­er sticks around long enough to tell the whole sto­ry. They mere­ly intro­duce them­selves and then leave me to fig­ure out what hap­pens next. Fig­ur­ing out the sto­ry takes patience and con­cen­tra­tion and deter­mi­na­tion. It is part self-hyp­no­sis, part imag­i­na­tion and part plain old hard work. It means being will­ing to take wrong turns and mean­der down blind alleys and then toss things out and start again. The most sat­is­fy­ing days are when a char­ac­ter comes ful­ly alive in my mind. It does­n't hap­pen often enough, but when it does, that is a most sat­is­fy­ing writ­ing day.
I am most com­fort­able writ­ing at home. It can be in our fam­i­ly room or the kitchen or my bed­room or the room over the garage. As long as it is qui­et, I love work­ing in my house. I feel safe and I am not dis­tract­ed by unfa­mil­iar voic­es or things.
Before my hus­band retired, I was strict­ly a morn­ing writer. Our rou­tine has shift­ed now. I still pre­fer writ­ing in the morn­ing, but I will often go back to work very late at night when the house and the neigh­bor­hood are silent. I think it's because there are no dis­trac­tions and I become lost in the world I'm creating.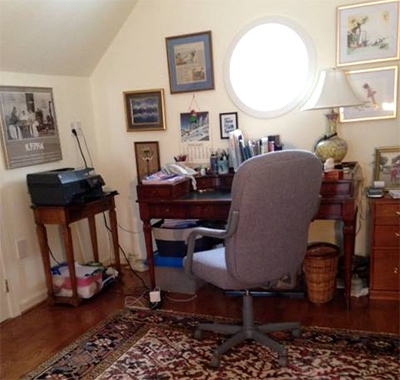 What are some of your favorite books?
MIDDLE GRADE
Walk Two Moons by Sharon Creech
Astrid the Unstop­pable by Maria Parr
Bud, Not Bud­dy by Christo­pher Paul Curtis
The Great Gilly Hop­kins by Kather­ine Paterson
Num­ber the Stars by Lois Lowry
Skel­lig by David Almond
Saffy's Angel by Hilary McKay
A Grey­hound of a Girl by Rod­dy Doyle
PICTURE BOOKS
Library Lion by Michelle Knudsen
The Iri­des­cence of Birds by Patri­cia MacLachlan
Hel­lo Light­house by Sophie Blackall
A Vis­i­tor for Bear by Bon­ny Becker
Rag­weed's Farm Dog Hand­book by Anne Vit­tur Kennedy
Me … Jane by Patrick McDonnell
Dear Mr. Blue­ber­ry by Simon James
Snowflake Bent­ley by Jacque­line Brig­gs Martin
POETRY
Song of the Water Boat­man and Oth­er Pond Poems by Joyce Sidman
Insect­lo­pe­dia by Dou­glas Florian
Mam­mal­a­bil­ia by Dou­glas Florian
What were you like as a kid?
I read all the time. I loved ghost sto­ries and mys­ter­ies. I was always look­ing for real-life mys­ter­ies to solve around our neigh­bor­hood, but I nev­er found one. If my friends and I weren't in school or doing home­work, we were outside—riding bikes, ice skat­ing, ski­ing, jump­ing on a tram­po­line, skate-board­ing or swim­ming in a pool. I took piano lessons for five years, but I was nev­er any good at it. Still, I always loved music. I sang in choirs and per­formed in school plays.
Is writ­ing hard for you?
YES! But, when it works, it's the best feeling.
How many drafts do you write?
I live in Williams­burg, Vir­ginia, four miles from Colo­nial Williams­burg. I love being so close to his­to­ry. I am con­stant­ly learn­ing new things about our coun­try's beginnings.