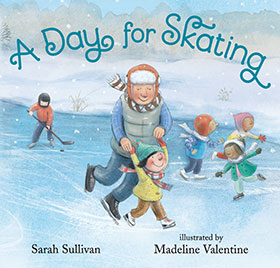 In a sweet rhyming tale, a young child's first skat­ing adven­ture on a frozen pond ends with a cozy bed­time sto­ry.

Tap and step,
then slide and turn.
Whoops! Fall down.
That's how we learn.

On a brisk winter's day, the frozen pond is criss­crossed by fig­ure skaters, hock­ey play­ers, new skaters, and old pros, all glid­ing across the ice. It's time to bun­dle up, lace your skates, and give it a try — then head inside for cocoa and snacks when your cheeks grow rosy and your toes are cold. Back at home, warm bed­time rit­u­als make for the end of a per­fect day. But when dark­ness falls at the pond, who will come out to skate?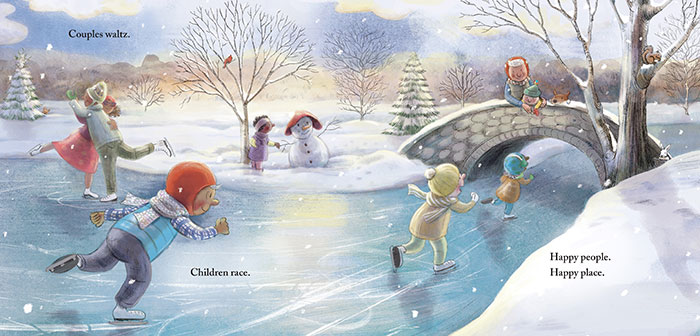 Bank Street Col­lege Best Chil­dren's Books 2020
"The cadence and pre­sen­ta­tion of this sto­ry are ide­al­ly suit­ed to bed­time read­ing. Short, rhyming phras­es pair beau­ti­ful­ly with the artwork…Readers of all ages will enjoy the qui­et calm that descends upon them while shar­ing this sto­ry as they, too, wind down from a day of win­ter fun." (School Library Jour­nal)
"Love­ly draw­ings with sim­ple details, done dig­i­tal­ly and using water­col­ors and col­ored pen­cil, move the verse from a brisk, snow-cov­ered day scene to the deep­er pur­ple hues of a win­ter dusk and a final, deep­er blue when night­time crea­tures enjoy the frozen pond…This win­ter sports por­tray­al is a fine and attrac­tive addi­tion to the sea­son's preschool col­lec­tion. (Kirkus Reviews)
"Cozi­ness is the name of the game in the pen­cil and water­col­or illus­tra­tions, with lots of feath­ery snow, fuzzy knits, and soft and friend­ly faces…this will entice the uncer­tain out onto the ice (or into the warm­ing hut) and give view­ers in warmer climes hap­pi­ly frosty day­dreams." (Bul­letin of the Cen­ter for Chil­dren's Books)